As the weather improves and Phase One of the trail nears completion, we look forward to seeing still more people walking, running and cycling in the months to come!
TRAIL PROGRESS
Phase 1 Grand Opening
We are thrilled to announce that the Grand Opening will be held on June 10, 2023, exactly one year after the groundbreaking ceremony. The ceremony will occur at 11:00am at the new kiosk area, in the switchback area of the trail. More information to come.
If all goes well over the next month, the plan is that the trail will be officially open for public use at this event.
** Please note that trail users are not to park in the old Par 3 parking lot. This is private property.
PHASE TWO
Planning for Phase Two is well underway. HBH Land Surveying Inc has completed the topographical survey and WSP, the engineering consulting firm, has started the detailed design. Fundraising continues to be a HUGE priority.
Executive
The board of directors is thrilled to be having face-to-face meetings again. We were zoomed out! In March, Don Morgan was appointed as an interim director on the board. Check out the Cycle 16 webpage in the coming weeks to learn more about Don and rest of the board: https://cycle16.ca/about/
HELP NEEDED – Upcoming events requiring volunteers!!!
May 5-6 — Northwest Trade Expo at the Civic Center in Smithers. Calling all Cycle 16 Supporters! Volunteers URGENTLY needed for this coming weekend's Trade Expo. Sign up for a 2 hour shift to help out with raffle tickets and share brochure information. Sign up here: https://volunteersignup.org/QQ3MW
Month of May — Workbees may be announced on Instagram/FaceBook to prepare for the Grand Opening of Phase One Celebration. We may need helpers to do sanding, staining as well as laying of paving stones….. so please keep your eyes open for announcements if you can be a helper!
June 10 — Grand Opening Ceremony – We hope that a lot of members will attend the official opening of the trail to share in the joy of achieving this milestone! Volunteers may be required!?
June 11 — McBike annual "Tour de Smithers" bike event – Volunteers from Cycle 16 will be needed to help with tasks such as manning stations, handing out snacks, and doing a sweep of the route after the event is completed. Watch for the volunteer sign up in the coming weeks!
FUNDRAISING
DONATIONS
Cycle 16 has been the recipient of some substantial grants and donations since the new year began. These will help us to continue to progress on the next phases of the trail.
Since January, donors have included:
Grants and Donations- Northern Health IMAGINE Community grant
– Rural Economic Development Infrastructure Program (REDIP)
– Western Financials
– RBC
– Kinsmen
– BV Community Foundation
– BC Cycling Coalition
– BC Vision Zero
– PayPal Giving Fund

Generous Individuals:
– Martha Konantz
The Smithers Rotary Club continues to be a wonderful supporter of Cycle 16 in a variety of ways, including donations from their Kindness Meter. Thanks to members of the community that deposit change into the meters … it all adds up!
RAFFLE –
Raffle tickets are being sold to further support fundraising. A HUGE thank-you to the generous prize donors:
1st prize – McBike and GIANT for providing a Giant Explore e-bike
2nd prize – Mark Thibeault for the beautiful painting, "Boreal Forest"
3rd prize – Roadhouse for a delicious brunch for 2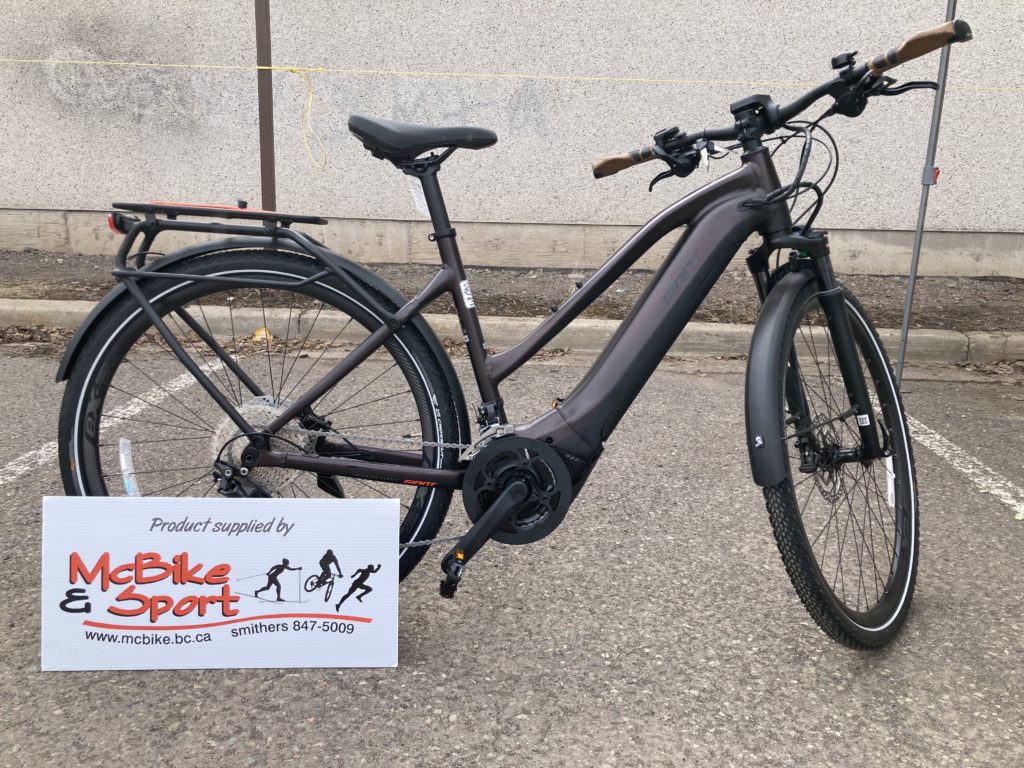 BIG thank you to Joe Tennant as well. He is making a committed effort to help get the raffle tickets sold! You will often find him on Saturday mornings from 9:00 to noon selling tickets at the corner of Main St. and 2nd Ave – across from Bugwood Bean.
RUSTICA BAKERY –
Meg has been getting ready to gear up for the next season of the Summer Cycling Cafes. She will begin with a soft start to the Summer Cycling Cafes starting on Saturday, May 6. This entails having a dresser at the end of the driveway stocked with goodies and an honesty box for payment. Keep an eye out for dates regarding the full launch of Summer Cycling Cafes and pizza nights, which will begin in June.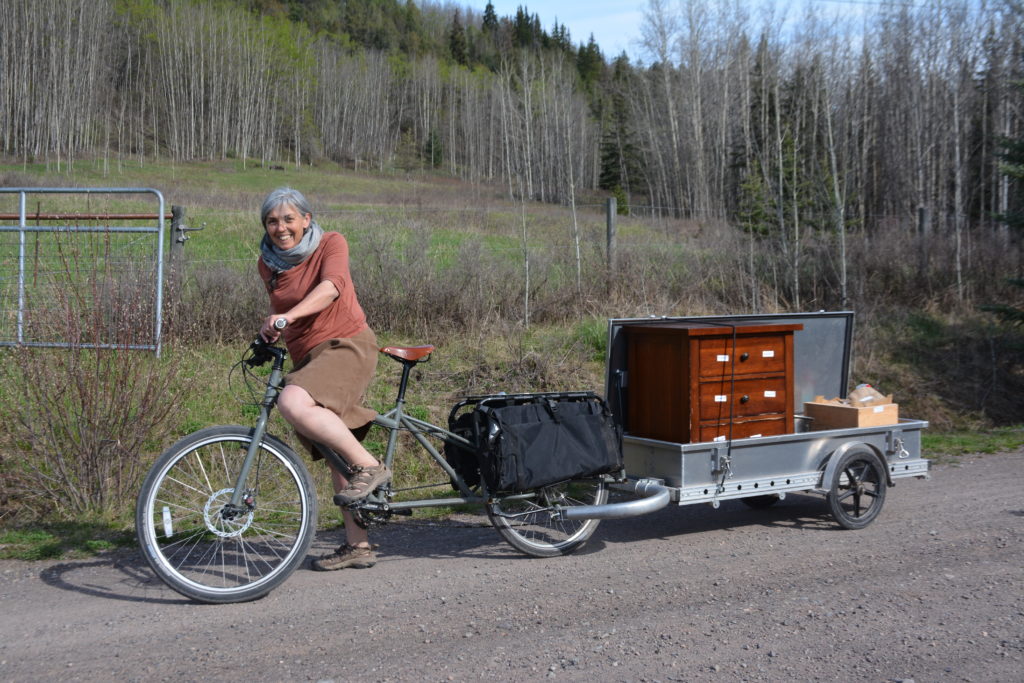 SPOKE CAMPAIGN Continues –
Cycle 16 is continuing with the Spoke Campaign which will help pay for the construction of Phase Two and Three. The goal is to fill in the spokes on the wheel to reflect the amount of money raised and the amount needed to complete the trail. Funding one metre of the trail costs $600 and completes 24 spokes on the wheel. If you are interested in supporting this project, donations with tax receipts can be made online – https://cycle16.ca/spoke-campaign-wheel/
BOTTLE DONATIONS –
Bottles can be left at the Bottle Depot with a note saying to "Please deposit in the Cycle 16 Account" …. these donations have also been adding up!
MERCHANDISE
Cycle 16 t-shirts continue to be available. See the selection, pricing and ordering information at https://cycle16.ca/merchandise/
And here we have a shirt being modelled on the top of the mountain — thanks, Ishmael!
BC SPEAK Survey –
BC SPEAK is a provincially developed BC-wide population online survey, designed to better understand the health and well-being of British Columbians ages 18+. It is relevant to the trail in that it helps shape policy for future healthy lifestyle activities
If you're interested in completing the survey or learning more about it, please follow the link below before June 24 when it closes:
B.C. SPEAK Survey (bccdc.ca)
GRATITUDE
Cycle 16 hugely appreciates the amazing support of our community. Together, we are building a legacy trail that connects the communities of Smithers and Telkwa!
Members of The Cycle 16 Society Board wish to thank everyone that has committed to getting Phase One to completion …. we're excited to see everyone at the Opening Ceremony on June 10th!